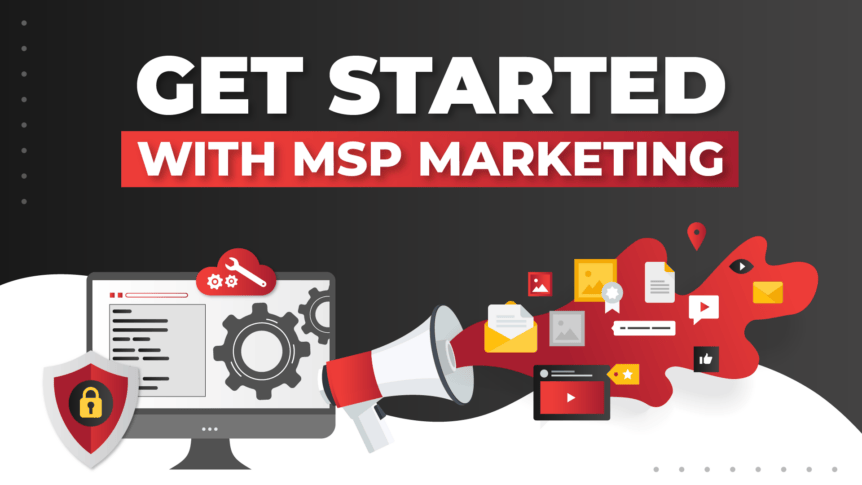 As a managed services provider (MSP), you make IT support accessible to companies of all shapes and sizes. But without effective MSP marketing in place, you miss out on opportunities to acquire monthly recurring revenue and grow your business.
By working with thousands of MSPs across the U.S., we've found many struggle with lead generation and closing the loop with new business. To win more clients, you need a well-executed MSP marketing strategy in place to draw in targeted customers and guide them through the sales process.
In this MSP marketing guide, we provide you with an overview of what strategies your competitors are using and the resources and knowledge you will need to start building out your MSP marketing campaigns. Including:
What Is MSP Marketing?
MSP marketing is a marketing plan, campaign, or strategy designed to facilitate the sale of managed IT services. Many MSPs think that marketing and sales activities are the same, but this is not the case. Marketing activities help you reach your target audience and influence prospects to contact you.
Because the MSP sales process is highly consultative, you can spend weeks, months, and
sometimes even years closing a customer. So effective MSP marketing engages and educates leads to expedite the sales cycle. The goal of your MSP marketing should be to secure an appointment with
qualified prospects interested in outsourcing network monitoring and maintenance on a contractual basis. But documenting and rolling out your MSP marketing strategy is easier said than done. So where do you start?
Understanding The MSP Marketing Landscape
Managed Service Providers operate within a unique ecosystem, catering to businesses seeking reliable IT solutions. In the digital realm, they face both challenges and opportunities specific to their industry. From showcasing technical expertise to building trust in cybersecurity, it's important that your MSP marketing strategies are tailored to your audience.
Tips from the TMT team:
How Do I Grow My MSP? 21 MSP Marketing Strategies To Grow Your MRR
To help you understand the marketing strategies other MSPs use to close business, we conducted a survey of more than 500 MSPs. Here are the most common ways they promote and sell their managed IT services offering and generate leads:
Answer Choices
Responses
None, I rely 100% on referrals
39.02%
206
Social Media (LinkedIn, Facebook, Twitter, etc.)
27.08%
143
Local networking groups (Chamber, BNI, LeTip, etc.)
26.14%
138
E-mail
23.11%
122
Natural SEO strategies
21.02%
111
Newsletters
15.72%
83
Pay per click advertising (Google Adwords, etc.)
14.96%
79
Joint ventures and partnering
14.02%
74
Telemarketing
13.07%
69
Direct mail
11.74%
62
Other, please specify
10.80%
57
Trade show booths and sponsorships
9.85%
52
An outside sales team
8.14%
43
Yellow Pages
6.25%
33
Canvassing
6.25%
33
Vendor marketing initiatives
4.92%
26
Seminars
4.17%
22
Press releases
3.98%
21
Radio ads
3.03%
16
Teleseminars and webinars
2.84%
15
TV ads
0.95%
5
Total Respondents: 528
Referral Marketing
Many businesses take referrals for granted, and very few have a plan for generating referrals. A referral from a happy customer is the best way to gain new sales leads.
We cover the secret to getting MSP referrals here:
You can actively generate new customers by offering referral discounts, conducting referral events, and planning contests to see which customer can provide the most referrals in a certain time frame. Also, you should ask for referrals regularly and have a generous reward system in place for the customers who refer you.

In the blog "How I Increased Revenue By $372,456 And Profits By $303,841 In 11 Months To Earn A Better-Your-Best Finalist Status" Tommy Thorton shows how he used a Peloton Bike to fuel referrals.
Social Media Marketing
Social media is an important marketing and branding activity. It helps MSPs establish your company as a trusted industry expert, build market awareness for your services, and engage with customers and prospects. Social media platforms offer an ideal medium for MSPs to engage with their audience and showcase their solutions. Identify the platforms most relevant to your target clients. Consistency is key—regularly post informative content, share industry news, and interact with your followers. Create a community around your brand and encourage discussions on relevant IT topics.
Why most MSPs shouldn't start their marketing with Social Media:
Tips from the TMT team:
Get all of the knowledge and information you will need to create your MSP's social media profiles, optimize them, and leverage them to generate leads with our MSP social media guide
Use your personal LinkedIn profile as a sales page for your business. You want this set up before you start posting content and connecting. You and your employees should have completed profiles. Here are 3 things you MUST have filled out:

Your branded cover photo (bonus points if it has a call to action)
An offer link (you can update this link with text that says something like – Get a FREE IT Assessment)
Complete your Featured section with an offer (example can be a copy of your book, a free assessment, a white paper, etc.)
For more, check out our guide to optimizing your MSP's LinkedIn profile
More Social Media Marketing Resources: How to create and optimize your MSP Google Business Profile Apple Business Connect: what MSP owners need to know
Local Networking
Good old school "networking" is still one of the best, and most underused strategies that most MSPs ignore. Done right, you're marketing and selling, without anyone knowing it. One of the best ways to do that is to have a strong, Unique Selling Proposition (USP). Something that makes you instantly stand out in a "sea of sameness" and attracts your ideal clients to come talk to you.
Here are some local networking options to throw into your marketing mix.

Email Marketing
Email marketing remains a highly effective method for nurturing leads and maintaining client relationships. Craft personalized and engaging email campaigns that address specific pain points and offer valuable solutions. Use automation to send relevant content at the right stages of the buyer's journey, nurturing leads into loyal clients. When implementing an email marketing strategy, building a high-quality subscriber list is key. You should collect business cards at industry events, get email addresses from your sales prospects, and make sure your existing clients are on the list.
Tips from the TMT Team:
Search Engine Optimization (SEO)
Search Engine Optimization (SEO) is the cornerstone of digital visibility. Research and identify keywords relevant to your services. Optimize your website's structure, metadata, and content around these keywords. Links from local businesses, local citations, like the Chamber of Commerce, and industry citations like clutch.co, cloudtango.net, can significantly boost your website's authority, helping it rank higher in search engine results.
Tips from the TMT team:
Newsletters
A free, physical, monthly, mailed newsletter is STILL one of the very best pieces you can use to stay in front of leads, get more referrals from clients and stay top-of-mind.
At TMT we provide a monthly newsletter for all of our members for them to send to their leads and clients, plus of course…we eat our own dog food.
All of our members get a monthly MSP Marketing Strategy Brief loaded with tips and strategies and marketing campaigns to grow. (Get a sample here.)
We also send about 30,000 leads and clients the MSP Success Magazine. The important thing to remember in a newsletter is to have topics YOUR CLIENTS ARE INTERESTED IN READING ABOUT and not just write articles about what you're interested in selling/telling them. For a great book about using newsletter to get clients and referrals check out The No B.S. Guide To Maximum Referrals And Client Retention by my long time marketing mentor Dan Kennedy and friend Shaun Buck.
Pay-Per-Click Advertising (PPC)
Pay-per-click advertising allows MSPs to reach their target audience through targeted ads. Develop ad campaigns that highlight your unique value propositions and drive traffic to landing pages optimized for conversions. Monitor your campaigns closely and make data-driven adjustments to optimize your ad spend. For a more detailed look at how to create successful PPC campaigns, see our PPC strategies for Managed Services Providers.
Tips from the TMT team:
Your keywords, ads, and landing pages should be congruent and contain the same themes and messaging.
Landing pages used for PPC campaigns should have a bottom-of-funnel offer like a discovery call or consult above the fold (before a user needs to scroll).
Set a budget that is competitive to your market. (our recc is $3,000/mo) Setting too low of a daily budget might not produce the desired results. To help conserve budget set an ad schedule that aligns with your operating hours so that your ads are not spending 24/7.
Joint Ventures (JVs) And Partnerships
From when I first started out to today, joint ventures (JVs) and partnerships continue to be one of my favorite ways to market IT services. And I don't see enough people doing it!
Joint venture are often FREE and give you access to a large pool of potential clients to present to. PLUS…you come in with tons of pre-built authority. Think about this…
If you want to get your foot in the door with a number of companies that already have a great relationship with another professional (their business insurance agent) then why not do a webinar or speaking engagement where you talk about cyber-insurance. The agent get 10-12 new potential clients in the room, you tell them the importance of cybersecurity and insurance (as the last line of defense…and something they are required to have). You're the expert in the field and just added a dozen new great prospects to your list.
Done right, you can walk out of even a small gathering with 3-4 high-quality appointments.
Start small, then go big like Scott Hagizadegan of Shield IT Networks. Scott became the "go-to" cybersecurity expert for local CPAs and then grew that initially small partnership into becoming the preferred provider for the California Society of CPAs (CalCPA). You can get more of his story where he describes, "Even After Losing My First MSP And Enduring Massive COVID-19 Shutdowns, I GREW My Brand-New MSP By $89,492 In MRR In Our First 90 Days!"
Telemarketing (Everyone's LEAST favorite strategy…except those that are adding millions to their bottom line by doing it!)
Telemarketing is like the kale of the MSP marketing world. You know it's good for you, but you'll be damned if you'll eat it! If you don't like this one…skip it…but know what kind of results you're missing.
You'd be hard-pressed to get David Javaheri of Direct IT to stop with his prospecting system since this has been the backbone of his meteoric growth. Since implementing a 3-call telemarketing plan back in 2019 he's grown from a little over $2M in annual revenue to nearly $10M in 2023. Click here for the full story.

The most important aspects of any calling campaign are systems, process, measurement, training, re-training, re-training, MORE re-training and then scaling. An example of a system like David uses is to send a mailer on a Thursday. Then call the person who got the mailer the following Tuesday, Wednesday and Friday.
What's this get you (besides tired, "no's", and a lot of banging your head against a wall?) We'll for every 100 letters you send and use telemarketing strategies to follow-up, you get 1-2 appointments. So if you want 6 new appointments each month, you'll need to send 300-600 letters and then make that many phone calls times about 2.4 on average. Is it hard? Actually, the system is pretty easy! Is it hard to make time for and stick too…well that depends on how much you really want a proven marketing strategy to grow your MSP. Remember, it's kale. It works…but it's not tasty. You gotta WANT the end result.

Webinars And Thought Leadership
Hosting webinars allows MSPs to showcase their industry expertise and connect with potential clients in a more personal way. Select relevant topics that address pain points, challenges, or emerging trends in the IT landscape. Promote your webinars through your website, social media, and email campaigns, and engage participants through interactive sessions.
Tips for marketing webinars:
Tips from the TMT team:
Straight from Robin Robins: "We don't typically start promoting webinars until about five days before. It is primarily digital because if you promote it sooner, you'll get registrations, but show-up rate is low because people register and then forget and they don't show up." Three ways to maximize your webinar ROI
For longer, virtual events, we suggest starting marketing promotion a few weeks out.
Video Marketing
Video content has gained prominence in digital marketing due to its engaging nature. Produce informative videos that simplify complex IT concepts, showcase successful case studies, or provide glimpses into your team's expertise. Share these videos on platforms like YouTube, social media, and your website to boost engagement and brand awareness.
For more information on how to get started with video, see our introduction to video marketing for MSPs.
Tips from the TMT team:
Educational Value: Focus on creating videos that educate your audience about industry trends, common challenges, and solutions. Break down technical jargon into understandable language to resonate with a wider audience.
Case Studies and Success Stories: Share real-world case studies that highlight how your MSP's solutions have positively impacted clients. This not only demonstrates your capabilities but also builds trust through tangible results.
Authenticity: Showcase the human side of your MSP by featuring key team members in videos. This adds a personal touch and helps build a connection with your audience.
Content Marketing
Content marketing serves as a potent tool for establishing thought leadership and building lasting relationships. Create high-quality, educational content that addresses pain points and challenges your target clients face. Blog posts, whitepapers, and industry insights showcase your expertise and provide value, positioning your MSP as a go-to resource in the field.
Tips from the TMT team:
Clear, direct content is necessary to grab your prospect's attention and differentiate yourself from the competition. Why great content is the key to marketing managed services.
Social media platforms want you to be social. You can't post and ghost. Best practices are: Posting Monday through Friday and spending 10-15 minutes engaging with your newsfeed AFTER hitting publish on your post.
What To Expect From MSP Marketing: Real Numbers From MSP Case Studies
In this video, we cover everything from email open rates and webinar conversions to Google PPC campaigns and direct mail strategies, this comprehensive breakdown gives you a clear picture of what to anticipate when you start your MSP marketing campaigns. Discover real numbers from case studies and why certain metrics matter.
How To Build A Strong MSP Brand Online
Brand identity goes beyond just a logo and colors—it encompasses the values, voice, and mission that differentiate a business. For MSPs, establishing a strong online brand presence helps foster credibility and trust. Define a clear brand voice that resonates with your target audience. Communicate your commitment to security, reliability, and innovation to position your MSP uniquely in the market.
Tips from the TMT team:
How To Implement An MSP Marketing Plan
These are the top marketing strategies MSPs reported using to sell managed services. But, through working with thousands of MSPs and IT services providers, we know most of the marketing they do doesn't drive results. Even the process of collecting and responding to referrals isn't structured into an effective marketing strategy. Instead, the process is disorganized, disjointed, and often improvised. All in all, to generate leads and drive sales for your managed services offering, your MSP marketing strategy should connect the dots from prospect to customer.
Where to get started when creating an MSP marketing plan:
Here are some resources to help you get started with your MSP marketing plan:
2023 MSP Marketing Trends
Increasing Demand And Growth Opportunities
According to our survey of MSPs, many have seen a rise in demand, with 37% of respondents reporting increased demand for their services. To capitalize on this trend, MSPs should focus on areas like compliance readiness, offering advanced security solutions, and exploring co-managed services. These strategies can set up MSPs for growth and enable them to cater to the evolving needs of their clients.
How to sell more cybersecurity services:
Profitable Client Segments
The sweet spot for lucrative MSP clients seems to be within the 11 to 50-user range. However, as co-managed services gain traction, MSPs might find increased profitability in the 100 to 200-seat client segment. This highlights the importance of adaptability and staying attuned to shifting market dynamics.
Client Acquisition And Churn
High-performing MSPs secure around 1.2 new clients monthly while managing a churn rate of 0.9 clients. This data highlights the significance of client retention strategies and the willingness of successful MSPs to let go of unprofitable relationships, contributing to their overall growth.
Referrals, networking, and upselling remain effective strategies for client acquisition. Notably, inbound website leads, direct mail, outbound calls, and seminars also play crucial roles.
Rise Of Video Content
The rising popularity of video content, including animations, screen recordings, and live sessions, reflects changing content consumption habits. Video marketing on platforms like YouTube and LinkedIn offers an engaging way to connect with audiences and convey complex information effectively.
Customer Acquisition Costs
Customer acquisition costs are significant, with the average MSP spending $29,000 per new customer. While this might appear steep, exploring cost-effective alternatives such as joint ventures (JVs) and referrals can lead to successful client acquisition without the hefty price tag.
Digital Advertising Costs And Strategies
The digital advertising landscape has seen costs rise due to increased competition. Platforms like Google and Bing require substantial monthly ad spend for optimal results. However, retargeting remains a cost-effective strategy with a higher conversion rate, making it a smart choice for MSPs.
Lead Conversion Timelines
MSP leads often have longer conversion cycles, taking around 84 days to progress to an opportunity. Patience and a persistent follow-up strategy are essential to nurture leads through this journey. Consistent follow-up over time is crucial for converting leads that might otherwise be lost.
Minimum Marketing Practices
A robust marketing strategy involves using a CRM or marketing automation platform to manage leads efficiently. Implementing retargeting, maintaining active social media profiles, publishing regular blog posts, and utilizing offline drip campaigns form the foundation of a well-rounded marketing approach.
Need help implementing a cohesive MSP marketing strategy? Schedule a FREE MSP marketing strategy session. In 60 minutes or less, we'll show you how to get in front of more high-quality prospects that WANT your services and are ready to buy.