LinkedIn is a powerful tool for Managed Service Providers (MSPs) serving as an essential part of any msp marketing plan, a digital business card, and an authority-building platform. It's also one of the first things a prospect will see when they search for your business.
In this example, this company's LinkedIn profile is the second listing on the search results page. That's why all MSPs have a comprehensive LinkedIn strategy and an optimized profile. Here's a comprehensive guide on how MSP owners can optimize their LinkedIn profiles.
LinkedIn Profile Optimization
Profile Picture: Use a professional, high-quality headshot.
Image Sizes:

Profile Picture: 400 x 400 pixels
Business Cover Picture: 1536 x 768 pixels
Background Photo: 1500 x 500 pixels
Profile Cover Picture: 800 x 200 pixels
Custom Image In Posts: 1200 x 627 pixels

Headline: Craft a compelling headline showcasing your specialization in Managed Services.
Summary: Write a succinct summary highlighting your experience, expertise, and the value you bring to clients.
Experience: List relevant experiences, focusing on your achievements and impact in each role.
Skills & Endorsements: Add relevant skills and seek endorsements from colleagues and clients.
Recommendations: Request and give recommendations to build credibility.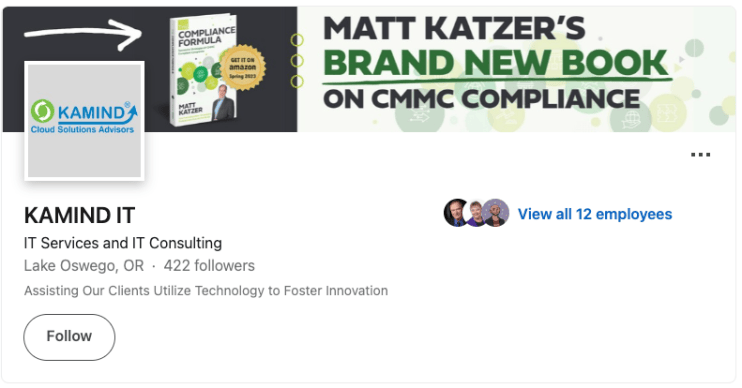 Content Strategy
Regular Posting: Share insights, updates, and valuable content regularly.
Engagement: Engage with your audience by responding to comments and participating in discussions.
Value-Driven Content: Share content that showcases your knowledge of managed services and provides value to your audience.
Visuals and Multimedia: Incorporate visuals, videos, and other multimedia elements to enhance your posts.
Authority Building: Share your achievements, case studies, and testimonials to build authority.
Lead Generation & Client Retention
Connection Requests: Send personalized connection requests to potential leads.
Messaging: Utilize direct messages to build relationships and discuss potential collaborations.
Client Retention: Share client success stories and testimonials to retain existing clients.
Call-to-Action: Include clear CTAs in your posts to guide your audience on the next steps.
Client Engagement: Regularly engage with your clients through comments, likes, and shares.
Algorithm Awareness
Stay Updated: Regularly update your knowledge of LinkedIn algorithms to enhance your visibility and engagement.
Adapt Strategy: Adapt your content strategy according to algorithm changes to maintain effectiveness.
Audience Insights: Leverage LinkedIn analytics to understand your audience and tailor your content accordingly.
Networking
Join Groups: Participate in relevant LinkedIn groups to network with peers and potential clients.
Create Conversations: Initiate discussions and participate in conversations to build relationships.
Build Partnerships: Connect with other MSPs and related businesses to explore partnership opportunities.
Tracking and Analytics
Performance Analysis: Regularly analyze the performance of your posts to understand what works best.
Adjust Strategy: Based on analytics, adjust your content and engagement strategies for better results.
Goal Setting: Set clear, measurable goals for your LinkedIn activities and strive to achieve them.
Utilize LinkedIn Features
LinkedIn Articles: Write and publish long-form articles to showcase your expertise.
LinkedIn Stories: Use stories to share updates and engage with your audience in a more informal way.
LinkedIn Live: Leverage live videos to connect with your audience in real-time.
Conclusion
For MSP owners, an optimized LinkedIn profile is a crucial asset for building authority, generating leads, and retaining clients. By implementing the strategies mentioned above, MSP owners can leverage LinkedIn to enhance their online presence and grow their business. Keep abreast of the latest trends and algorithm changes to stay relevant and maintain engagement with your audience.
Want to quickly and easily blow past a million in profitable revenue this year? Attend our next FREE MSP Marketing Training to learn how.