Who Is Robin Robins And Why Is Everyone In The IT Services Industry Talking About Her?
We Are The IT Industry's Leading Marketing And Sales Consulting Firm For MSPs, MSSPs, VARs And Firms Selling Outsourced IT Projects And Services
Our CEO And Founder, Robin Robins
There is no doubt about it: Robin Robins, and the team at Technology Marketing Toolkit, have helped more MSPs and IT services businesses to double – even triple – sales, profits and MRR growth than any other marketing consultant in the IT services industry, period. As a trusted advisor to over 10,000+ IT services business owners for two decades, Robin knows a thing or two about what it takes to grow sales, recurring revenue streams and a profitable client base for an IT services business.
In addition to her hands-on experience in working with IT business owners, Robin runs a phenomenally successful and profitable multimillion-dollar services business herself. Unlike many "ivory tower" consultants who run a business in their dreams, she can speak from actual experience in marketing, packaging and delivering intangible services, dominating a niche, assembling a "dream team" of colleagues (staff) and building a raving-fan, loyal client base.
"Not only transforming businesses, but transforming lives..."
Robin Robins Has Been Featured On 580+ Publications Including​
From Homeless To The Most In-Demand Marketing Consultant In The World
If you had met Robin Robins 30 years ago, you would never have guessed that one day, she'd lead the IT industry's most successful, respected, and fastest-growing marketing firm for MSPs. But that's exactly what she did, persisting through extreme adversity and against all odds, forever changing the face of the IT industry with her Technology Marketing Toolkit. From being homeless at the age of twelve to founding an eight-figure company with over 10,000 clients worldwide this is her story.
Over 10,000 IT Services Business Owners have seen growth in sales, recurring revenue streams and an increase in a profitable client base.
Robin's Top Areas Of Expertise:
Creating highly effective marketing and lead generation plans for MSPs, VARs and IT services businesses that are vendor and media agnostic.
Digital marketing strategies that encompass ALL online media, from websites, SEO, Facebook, LinkedIn, Instagram, Google My Business, Pay-Per-Click, retargeting and more.
Successfully using offline marketing campaigns including trade shows, canvassing, telemarketing, direct mail, workshops and seminars, lunch and learn events, executive breakfasts and sponsorship venues for client acquisition.
Setting up and implementing marketing automation platforms and tools to maximize lead conversion and sales.
Cultivating extremely profitable sponsorship and strategic joint venture partnerships.
Hiring, managing, compensating and coaching sales and marketing teams for peak performance.
Creating high-performance sales processes and playbooks for IT services and MSP sales.
Robin has been a favorite speaker for IT industry events such as System Builder Summit, SMB Nation, CompTIA's BreakAway, CT Summit, ASCII Boot Camps, MSPU Boot Camp and Strategies for Success, and has been interviewed and published in VARBusiness and Sales and Marketing Magazine. She writes columns for ITChannelInsight.com, eChannelLine.com, SMB Nation Partner Magazine and Microsoft's Partner website, and runs the largest, most successful sales and marketing coaching program in the world for the CEOs of IT services firms.
In addition to her extensive experience with IT services firms, Robin has also developed marketing strategies for over 4,500 businesses in 14 different industries across North America, Australia and Europe. This includes both online and off-line marketing strategies for computer training schools and universities, franchise organizations, software companies (Novell, SurfControl, AVG antivirus and Microsoft), financial services, seminars and events, member organizations and a variety of consumer products and services. This vast experience has given Robin a broad knowledge of hundreds of marketing and sales tactics used by some of the most successful and sales-driven organizations in the world.
Listen to why Robin is one of the most trusted leaders in IT Services Marketing
Not Sure If Robin Robins' Toolkit Is Right For You?
Click the "play" button below to hear Bill Metcalf interview Robin on what's inside the Toolkit, who it's designed for, and what makes it so powerful.
Listen to Robin Being Interviewed By "Learning From Leaders" On How To Be Successful In Business
The Technology Marketing Toolkit Mission
To build a community of success-minded entrepreneurs that inspires excellence, encourages collaboration and expands the capacity of all members to achieve great things.
Why Does Robin Work With Small IT Firms And Not The Big Guys?
In many ways, it's easier to work with a larger firm that's already established and has achieved a level of success on their own. They are already doing a lot of things right, they have money to invest, an established client base and a good reputation in the marketplace to build on. And while I could (and have) consulted with larger IT firms, I have chosen to work with small IT firms and start-ups for three main reasons:
First, I find many big firms frustrating to work with. It's next to impossible to get anything implemented because of all the politics and red tape. Everything is a committee decision that only serves to stall action and water down ideas. Plus, there is a lot of "schmoozing" that has to go on to get in the doors in the first place. I'm not a good "schmoozer" and refuse to kiss up to someone to earn their business. I stand on results and results alone. I don't usually find any of this with small business owners.
Second, I enjoy the challenge of working with the small firm. All my life I've had to build something from nothing, and that's what I've gotten really great at – scrappy, creative and really, really smart strategy coupled with hard work.
Third (and probably most important), I love helping the "underdog." When a client comes to me with a story about how I've helped them finally get the financial success they so desperately needed, or that I've helped them get out of debt and save their business (and sometimes their marriage!), I'm totally fulfilled. That gives me far more personal gratification than helping a $50 million firm generate an increase in sales. I've built my business from nothing and know how hard it can be to start and grow a business when you've got no money, no help and the world on your shoulders. I'm proud to be that "rock in the storm" to help my clients enjoy the same level of success and financial freedom I've been able to achieve myself.
The Business Soul Of Technology Marketing Toolkit:
To always give our clients products and services that exceed their expectations.
To earn the trust and respect of our clients through kept promises and honesty.
To proactively contribute to not only our clients' financial success, but also their emotional, physical and spiritual well-being.
To make a positive contribution in some small way to every person we have the opportunity to touch.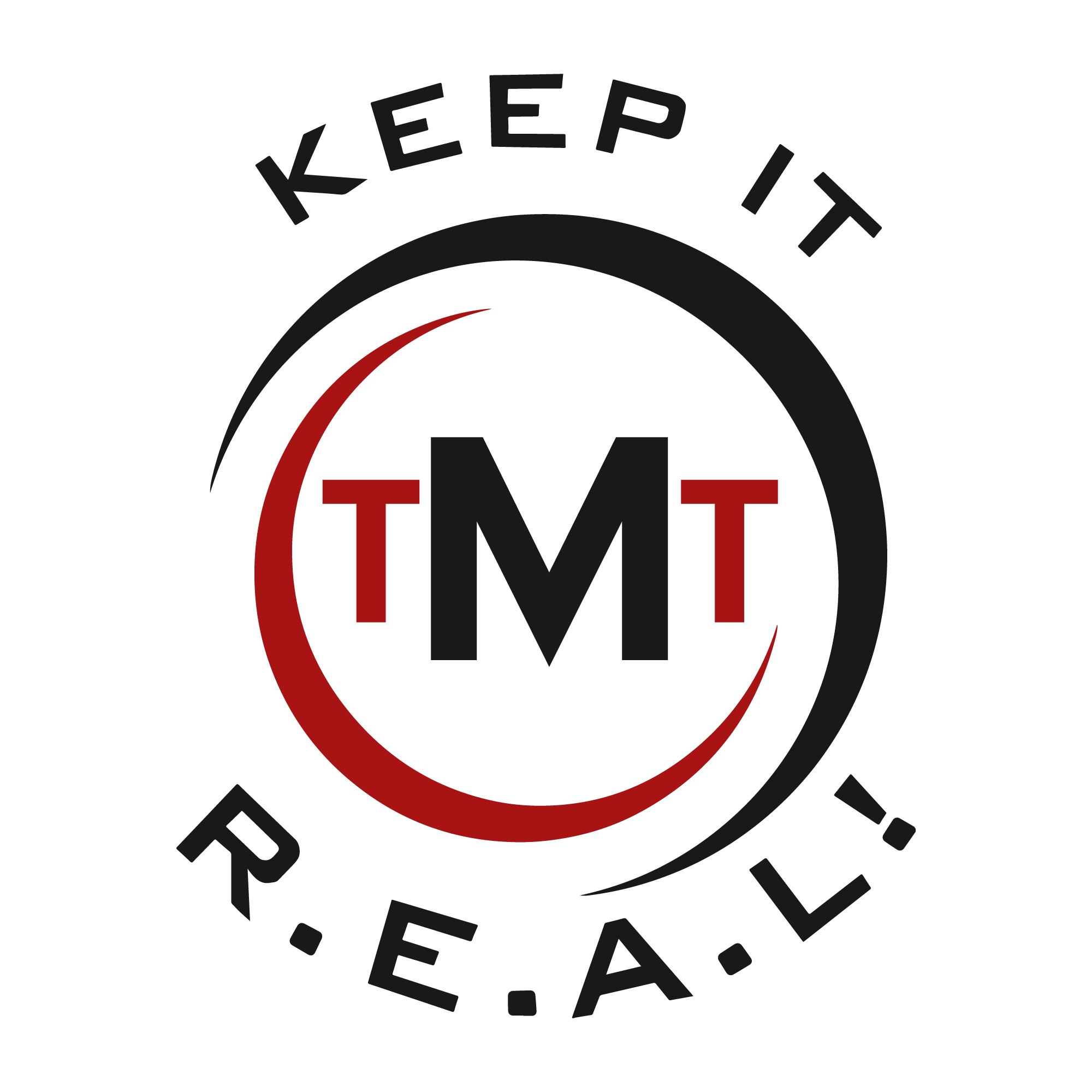 What Does "Keep It R.E.A.L." Mean?
Our tagline at Technology Marketing Toolkit is "Keep It R.E.A.L.", and we get the question ALL of the time about what it means. It stands for what we work so hard for everyday to help our clients achieve. We want our clients to have a business that is…
Rewarding
Easy
Attractive
Lucrative
…instead of a business that is…
Tedious
Exhausting
Chaotic
Hard