7 Ways To Get The Marketing Support You Need From Technology Marketing Toolkit And Team Robin Robins
We offer four membership programs to help our clients FULLY IMPLEMENT the marketing campaigns and strategies we deliver in the Technology Marketing Toolkit and the Managed IT Services Blueprint, as well as one-on-one consulting and customized training programs. To speak with someone about these options, call us at 615-790-5011.
Private Workshops, Seminars And Consulting
Robin is available for developing customized training workshops for your company on the sales process or lead generation marketing. Full-day workshops start at $19,500. Tele-consulting is available if you prefer and can be delivered via 30-minute calls every month for a period of 10 months. Before considering this option, you must have purchased and be very familiar with Robin's methods outlined in the Technology Marketing Toolkit.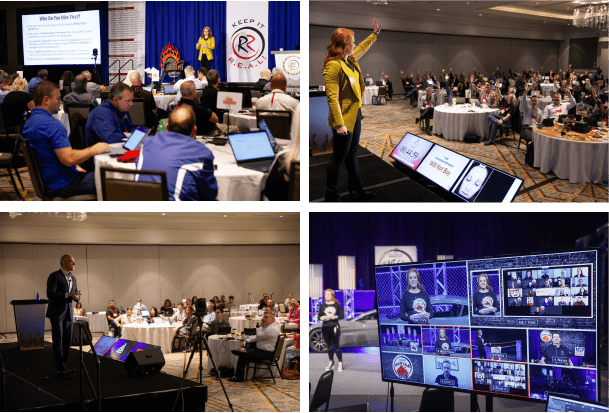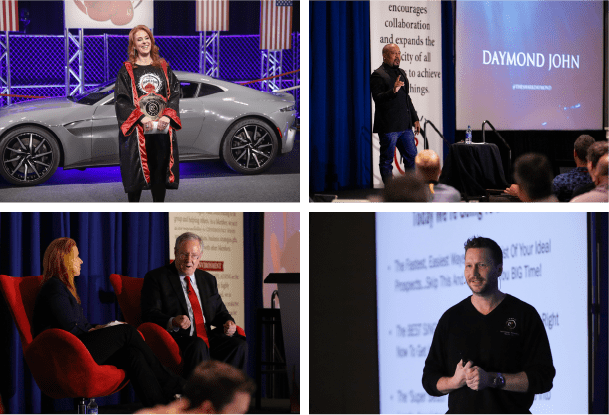 Keynote Presentations And Workshops
If you want a dynamic speaker at your next event who will have attendees excited, motivated and glad they attended – with actionable strategies, tools and templates they can take home – Robin Robins will not disappoint! Robin can speak on a number of topics, including online marketing, lead generation, consultative selling, webinar and seminar marketing, writing a marketing plan and much, much more.
The minimum speaking engagement accepted is for 90 minutes, with a four-hour maximum. Speaking fees run from $10,000 and up (plus first-class travel) and depend on a number of factors and what you would like Robin to deliver. Some of the options we offer are pre-event webinars to prep your audience, printed workbooks and examples, take-home marketing plans, pre-event and post-event surveying, custom marketing tools and assistance in marketing Robin's session to drive attendance at your event.
Private Marketing Consulting With Robin
On a very limited, case-by-case basis, Robin can work directly with you and your team to build your company's entire sales and marketing process. You should apply for this option only if you have the staff and resources available to fully implement a robust and sophisticated marketing and sales process and are willing to work with Robin for six months or more to refine the aspects of your business.
Robin's fees for this level of coaching and support start at $20,000 and ONLY include consulting and copywriting (her fees do not include graphic design, web development, printing, lists, telemarketing or other media). If that is simply outside of your budget, we suggest you start with the Technology Marketing Toolkit. Only one client per market area will be accepted for one-on-one marketing consulting with Robin.
What Our Members Are Saying About
Technology Marketing Toolkit
Robin Re-Energized Our 10-Year Business So We Can Generate Sales At Will, Starting With $37,500 In MRR
Robin and the Technology Marketing Toolkit have done wonders in re-energizing our 10-year business. Among our eye-opening results in these past 90 days, we have initiated five quarterly business reviews as well as marketing that have resulted in $37,500 in monthly recurring revenue (MRR). Plus, we have generated $58,515 in projects! Because we have the tools to actually drive sales, by the end of next quarter we expect to be able to generate sales at will!
While At Robin's 2-Day Workshop, We Sent A Few E-mails That Turned Into 13 Appointments, $7,966 In New Monthly Recurring Revenue And $62,796 In Projects!
Robin's Rapid Implementation Workshop was a complete whirlwind of activity. We learned a lot and made great connections with other IT business owners. The best part? While at the two-day workshop, we sent a simple e-mail to 70 of our clients, which turned into 13 appointments and $7,966 in increased monthly recurring revenue with an additional $62,796 in projects!
Robin Taught Me That Marketing Is A Numbers Game – We Worked Those Numbers To The Tune Of 37 New Clients And $78,301 In MRR In Just One Year
After just 90 days with Technology Marketing Toolkit,
we closed $14,722 in new monthly recurring revenue
! Growing the business using our new marketing and sales techniques that we learned from Robin's Producers Club was exciting. Next, I started thinking BIG, planning growth by marketing numbers, and
added $53,865 in new MRR
in just over five months.
By growing our farm list to 3,000 and connecting with each prospect 96 times last year, we brought in 37 NEW CLIENTS, added $78,301 in new MRR, increased revenue by $451,755 and boosted profits by 176%! All we did was follow the campaigns and instructions TMT provided, and we are out of debt, out of our basement, and I WON Robin's Better Your Best competition to become TMT's newest spokesperson!
I Accomplished MORE Than I Ever Imagined FASTER Than I Imagined, Including $13,000 From A Current Client And $24,016 From A New Client!
Robin's Boot Camp and Rapid Implementation Workshop became a turning point in my mindset about how to finally start marketing my business. During the workshop, I scheduled quarterly business review appointments right there in class, which led to $13,000 in project work! After learning how to more effectively close sales, I closed $24,016.14 with a new client! We have accomplished more than I could have ever imagined in such a short time.
Our FIRST 2 Marketing Campaigns Generated 4 Appointments, $1,000 In Monthly Recurring Revenue And $10,000 In MRR In The Sales Pipeline!
In the 90 days that followed Robin's marketing training, we have been very active with our marketing. First, we scrubbed our list to generate 500 very qualified contacts. Next, we sent Robin's Bad Date letter to architects and engineers and generated nine new leads and two appointments for $10K in potential MRR in the pipeline. Next, we mailed the campaign to 252 CPA firms and received eight leads, two appointments and one new client at $1,000 in MRR and $500 potential MRR!
Almost From Scratch, We Built A Marketing Foundation That Added $14,631 In Monthly Recurring Revenue In Just 90 Days
By implementing client-focused campaigns, prospect-focused campaigns and drip marketing in this 90-day period, we added $14,631.67 in monthly recurring revenue as well as $105,267.18 in project and hardware sales!
Going through Robin's workshop and the 90 days that followed was an incredible opportunity for M3 Networks to develop our marketing efforts almost from scratch. We are incredibly grateful for this opportunity, and we are excited to take these tools and build upon them going forward!
From Just TWO Of Robin's Campaigns, We Landed TWO New Clients And A Possible $79,200 Opportunity!
As a small, two-person company, we were able to fill up our sales funnel in a hurry just by implementing two easy campaigns Robin taught us. During the past 12 weeks, these two campaigns alone have resulted in two new clients, four appointments and two reopened opportunities that we had previously GIVEN UP ON! In fact, any day now, we are expecting to learn that we won a $79,200 opportunity that, without a doubt, would have NEVER happened without Robin's coaching.
With $15,000 In PROFIT From Implementing A Single Strategy, My Mindset On Marketing Has Changed
I thought I was doing quarterly business reviews for our clients correctly. But they were more like, 'You had this many tickets this year, and here is a report on your backups.' These client reviews rarely produced sales. But after Robin taught us her QBR strategy that we implemented in her workshop, we grossed $23,000, with a profit of over $15,000 – all from this single initiative. To say I was stunned is an understatement!
Robin's "Warp-Speed Marketing" Was The Fuel That Rocketed Us To $8,200 In NEW Recurring Revenue!
Living in the heart of the space program in Houston, Texas, we are no strangers to speed. And Robin's Rapid Implementation Workshop is basically marketing at warp speed. After only 90 days in Robin's program, we have completed quarterly business reviews for one half of our clients. In that time, we have added $3,200 in MRR from NEW clients and approximately $5,000 in MRR from existing clients who have signed up for additional services."
At The Height Of The Pandemic, We Grew Our MRR By $6,832 And Added $121,217 In New Projects
By aligning with Robin Robins and Technology Marketing Toolkit, I have been pushed FAR outside of my comfort zone by executing campaigns and marketing strategies I have never done before. I'm determined to help meet our goals by embracing our company core values, implementing the Toolkit the RIGHT WAY, as well as track and analyze all results. So far it's worked! In just TWO MONTHS, we have grown our monthly recurring revenue by $6,832, added $121,217 in project work and also sold $159,369 worth of products!"
For The First Time In 20 Years, We Have A Marketing Plan And NEW CLIENTS Resulting From A Proven System
After 20 years of no marketing and STUCK in a rut, we began our journey with Robin's Rapid Implementation Workshop and 12-week training program. During this time, we signed and onboarded THREE NEW CLIENTS, adding to our monthly recurring revenue! For the first time in TWO DECADES, we have a specific and proven 12-month marketing plan in place that will enable us to meet or exceed our goals. The Technology Marketing Toolkit has set us on a good course to move us to our next goal: $5 million in revenue!"
Robin's Masterclass Marketing And Mini-MBA Program Helped Us Add $5,000 In New MRR And $10,000 In Projects!
This MASTERCLASS marketing and mini-MBA program takes you out of your comfort zone — precisely where you need to be to GROW! So far, our growth has been $5,000 in MRR and $10,000 in project work. What I found most valuable were the discussions with other MSPs who know what marketing works best. These peers share what they've learned the HARD way so we can implement it the EASY way!"