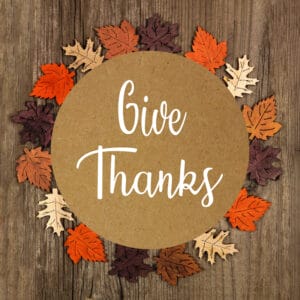 It's a short week for many of us as we prepare to spend time with our families and celebrate Thanksgiving. So this week I'm going to share a brief, but powerful lesson: USE HANDWRITTEN THANK-YOU NOTES!
We used to send Jamie and Emily (aged eight and five at the time) to Roots Academy for singing lessons. I received a handwritten note after Emily had her first trial lesson. Very, very well done. Even included some stickers Emily had mentioned were her favorite.
I've spent 100X the money with other companies and never got so much as a thank-you e-mail. LOTS to learn from this.
Jack Daly, international expert in sales and sales management, has spoken at several of my events. A few years back, he talked about his "money bag" idea. It was a simple bag he carried around with note cards, envelopes and stamps. When he met with a new prospect, regardless of the outcome, he'd write a handwritten thank-you note and drop it in the mailbox closest to their office to ensure it was delivered within the next 48 hours.
When was the last time you made the effort to let a prospect know you truly appreciate their time? Or sincerely thanked a client for their business?
He called it his money bag for a reason – it made a lasting, memorable impression and helped him close millions of dollars in sales. Could something so simple work that well? Try it for a couple of months and see for yourself.
Right now tickets are available for our annual conference happening in April. This sells out every year so if you want to attend click the button below right now.