In 1983, my second-oldest brother, Greg Martin, fell off a roof. His resulting injuries left him quadriplegic. Hoping to help Greg, the Lions Club provided a computer, but his paralysis prevented him from using it. It was the mid-1980s when no one understood computers– so I teamed up with my twin brother Kevin set about to learn what it could do. Fast forward to today, and I am now CEO and President of TECH Advisors. What started off as helping one brother led to becoming business partners with my twin brother. When we started TECH Advisors, we owned the company together and at that time, we were both CPAs. We started as CPAs taking care of CPA firms. Currently, we have 57 CPA firms as clients, and have 18 employees.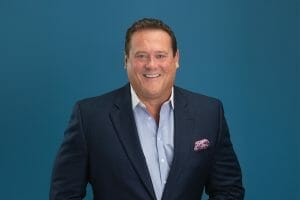 We signed on with Technology Marketing Toolkit about ten years ago, and at first, we didn't do much of anything, but then we really got involved. We went to Boot Camp, Roadshow, and Producers Club meetings. We had been nominated for Better Your Best Contest but we weren't ready to actually win yet. We didn't really understand MRR at that time. We were CPAs, and MRR isn't an acronym we knew. By the way MRR is Monthly Recurring Revenue.
In 2015, we went from no MRR to $67,500 by the end of that year. The MRR was all from new clients because my brother wouldn't let me sell the current clients. He had the mindset that we are in a good place and was afraid to sell to current clients.
One Step Backwards, Two Steps Forwards
In 2021 after COVID, four of our clients got acquired by Mazars. If you don't know who Mazars is, they took care of all of Donald Trump's accounting and they're a gigantic CPA firm. There were also other larger CPA firms that took our clients from us too through mergers. All we could do is keep moving. I go back to that quote by Churchill, "You know, when you find yourself going through hell, keep going". No one wants to be stuck in hell, so we kept marketing. We did the Small Business Tech Day and knocked that out of the park. We have our Amazon book and MSP Success Magazine that we market with and authority marketing has been, and is, our strategy.
We are serious about security and compliance for our clients and the rumor with Certified Public Accountants is TECH Advisors are not cheap, but they're worth it. We charge clients a lot, and our reputation supports our prices and mission. This is something we have learned from Technology Marketing Toolkit. We want high-value clients that value IT, and authority marketing helps us get the clients we want.
Becoming The CPA Authority
I think a good portion of that was because we had set ourselves up as the authority for CPAs. Robin is constantly emphasizing how important it is to set yourself up as the authority. I've got so many magazines with my picture on the cover. I've got magazines with Emmit Smith and Magic Johnson on the covers where we're the editor-in-chief. I've got an Amazon book. I even did a movie that just launched here in Massachusetts. 200 people came to see it.
I really think the reason we didn't have any pushback is that, yes, our clients needed it, but they looked at us as the experts. We heard over and over again from clients "You guys are the authority". That helped us to really grow that part of the business.
Many CPA firms are being acquired. We had four acquired in 2021 and two acquired in 2022. Combined we lost about $1.5 million in revenue. Despite this, we actually ended up increasing revenue by 1.5 million dollars over that period of time. We were $800,000 up in 2021 and $750,000 up in 2022.
There's nothing I can do about a merger and acquisition. What I can say is we're going to create a campaign and go back and interview our clients and ask them, "Was the quality of your IT part of the reason that it was easy to get you merged to a bigger client?" I thought of that while I was writing this essay. We should take advantage of that because we've shown that our services are helping these firms get acquired. We can't be afraid of it.
The Campaign That Added $12,090 In MRR
We sent the Closer Look campaign letter to our 56 ongoing clients, touting the importance of compliance and security. We did not lose a single client, and no client opted out! As a result, our security revenue increased by 341.25% in one year. We also sent the Closer Look campaign to prospects – we landed seven new clients and increased our MRR by $12,090 (419% growth in MRR in just over a year.)
We took the Closer Look Campaign and changed it up to speak to our current clients. We weren't giving them the ability to say, "I'm not doing this it is too much money". We would send a letter, follow up with phone calls, and then follow up with meetings. This was in 2022 and we had really very little compliance and security going. We didn't have a single client saying, no, but it took effort, and it took time.
Campaigns We Are Trying Right Now
Right now we're doing the Closer Look, the Galactic, and the Black Envelope campaigns and we're anxious to see the results. I know we'll have results because we're following the steps. We're following what we've been taught. We took an $800,000 company nine years ago and turned it into $4.2 million and we're closing in on $5 million. We've worked hard, but without the marketing, we never would have gotten there.
Once you start doing the marketing campaigns, like anything, it becomes routine. It will be difficult at first but you just have to do it because once you start doing it and put build your routine around your marketing, all of a sudden it becomes a lot easier. Then, when you start tracking your results, it becomes very fun. We've got four campaigns ready to launch in 2023, and we've got them all set up to measure the phone calls and the results.
How do you do that? Just do it. Ask yourself, "How many phone calls did you make today?" Ask yourself every day. MAP (marketing automation platform) will tell you the numbers. You just have to put them in an Excel spreadsheet. It can be really easy, and you'll see the progression.
Make the campaigns and the tracking routine and make the tracking a game where you're kind of celebrating and watching. What's the score? How are we doing? Because sometimes it doesn't always lead to a sale. But you can see results. You can see progress, you can see meetings. You can see that you're accomplishing something. You're connecting with people.
How We Got Started: The Aspirin Campaign
I had a prospect that we talked to that two years ago. We sent them the aspirin campaign and he said, you know, I still haven't taken that aspirin. That told me that he still had the campaign he had received two years ago. So I knew it was working. I don't know when clients are ready to buy. All I know is if don't stay in front of them and keep marketing to them, then they're not going to call me when they need me.
I started my marketing with the aspirin campaign. The message is very clear and the lumpy mail effect makes it easy for prospects to remember you. When you call to follow up and they're going to talk about you campaign and say "I still have that aspirin you sent me". So I just feel it's a very powerful campaign and it's easy and it works so follow the steps and don't change it. I would recommend you don't mess with it and just try it the way it is. Put your logo on, put your name in, tape the aspirin to it, and get it in the mail.
My long-term vision is to serve and protect CPA firms nationwide. I want every CPA firm looking for top-quality IT support, no matter where they are located, to know that Tech Advisors is one of the options they should be talking to because we're not just about IT solutions. We're about putting the right tools into CPAs' hands, so they are in the position where they are more secure, efficient, and effective.
Do you find yourself working your tail off and wondering if there is a better way? The Million-Dollar MSP Blueprint will show you how to shift from an exhausted, overworked "tech-with-helpers" into a thriving million-dollar+ MSP owner! Join our next FREE MSP training course by clicking here.