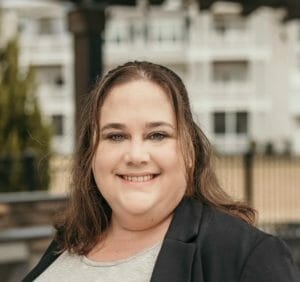 Starting his business as a break-fix IT firm in 2003, Phil Wynn founded Info Station in the small town of Marianna, Florida. In 2009, I myself Kyndel, his wife, joined Info Station and quickly became the unpaid "indentured servant" Robin talks about. Between running the business, caring for our special-needs son, and juggling everything from hurricanes to pandemics, we sum up our lives as "a rolling ball of chaos."
In 2015, we tried our hands at marketing but had no effing clue what we were doing. We jumped from one initiative to another. Nothing stuck. Nothing worked.
How A Devastating Category 5 Hurricane Blew Away Our Old Mindsets
Terrified. Worried. Thankful. That pretty much sums up our range of emotions in the fall of 2018 after Hurricane Michael visited Florida's Panhandle. Destroying Mexico Beach, the eye of this category 5 hurricane essentially blew through Marianna, where we lived and worked.
Without much warning, that hurricane obliterated Bay County, home to the majority of our larger dental clients. Seeing all the destruction around us – homes, businesses, trees – we wondered if the future of Info Station would be the hurricane's next victim. Knowing we had little savings and a mountain of debt, we were scared and frightened. And Phil and I shared the same worries:
What happens if none of our clients can PAY US?
What happens if we can't ATTRACT new clients?
What happens to our INCOME, our BUSINESS, and our FUTURE?
The Third Time's The Charm With Technology Marketing Toolkit
That hurricane was a huge wake-up call for us. We were finally ready to do something REAL to grow our little MSP. So, we bought the Toolkit three years ago and immediately used it as a doorstop. A couple of years later, we went to Robin Robins' Roadshow in Dallas, joined the "Accelerators Club", and signed up for the Rapid Implementation Workshop.
We didn't really follow the process, yet we still made a little MRR. Instead of getting Robin's Marketing Automation Program (MAP), we thought we could DIY it. How hard could a CRM be? Well, REALLY EFFING HARD! It was a dismal failure. We got overwhelmed, said screw it and quit.
Then, in the height of the pandemic, we moved our home and business to Freeport, Florida, for two reasons: 1) to better position our MSP close to higher-paying clients, and 2) so our son could thrive in a better school system.
We signed up for our second Rapid in June, determined to make it work. Per Robin directly: "Do the damn work!" We jumped in, committed to the process, and did the work! As a result, we've had some INCREDIBLE SUCCESSES over the last three months!
A $24,000 Increase With One Phone Call!
Turns out our biggest obstacle wasn't a hurricane or pandemic. It was OUR BACKWARDS MINDSET! During the Rapid Implementation Workshop, we got an opportunity to send a proposal to a five-location, 100-employee dental practice.
Our initial wild-ass guess was to price it at JUST $5K a month! I said, "Too CHEAP!" A colleague suggested $6,500 a month. "Too CHEAP!" I said again. So Phil said, "What about $7,500?" (Are you seeing a theme of our wild-ass guess pricing?) "STILL TOO CHEAP!" It was our own mind block preventing us from charging what we were worth.
I said, "Let's have Will Nobles be the tiebreaker." So, we set up a coaching call with Will. Without hesitation, he told Phil his numbers were too low. Will said, "I'm just down the coast from you, and I charge $8,500 all day long." (I did a mental "Hell, yeah!" 'cause I was right!) Next, Will told us how to stack our solutions and show more value.
It WORKED! They signed the $8,500 MRR deal just four hours later! At $2K a month more than our standard price, they became our largest client to date! Even better, we FINALLY have the confidence to charge what we're worth!
Raising Our Prices Gave Us A New Superpower!
By finally gaining the confidence to increase our prices, we discovered an extra superpower. We had a dermatology client who was involved in a lawsuit and would have been a very difficult and demanding client. The old Wynn team would have bit the bullet and said yes. Now that we have discovered marketing and we're growing, we have the strength to choose only the BEST clients. Phil told this prospect, "Please lose our number."
"You're The People With The Coolest Freaking Business Cards!"
After listening to Robin's advice of "Make an impression and don't be cheap," and watching John Ruhlin's "Giftology" presentation, we were ready to stand out in our new market.
What do you do when you get a BORING business card? Most people toss them! To make an unforgettable first impression, we switched to METAL business cards. They are the best CONVERSATION STARTERS!
Sure, they cost $1.25 each, but people KEEP THEM. And at our two sponsored networking events, we were introduced as "the people with the coolest freaking business cards!" In fact, we've had prospects who haven't responded to us in three years. But hand them a metal business card, and they're suddenly your BEST FRIEND. It works!
Gaining 60 New Leads By Doubling Down With An Unforgettable Impression
We recently sponsored two dental-group cocktail hours. Along with passing out a few of our metal business cards to interested dentists, we also gave out $5 leatherette koozies engraved with our logo. While everyone else had boring business cards and cheap swag, our top-shelf gifts helped us to add 60 qualified leads.
After both networking events, we followed up by sending a handwritten thank-you note to each participant, along with an engraved leatherette mousepad. We're suddenly getting recognized for what we do.
Our New "Robinized" Website Bringing Leads And A Couple Of New Clients
Our new "Robinized" website has delivered significant traffic, several leads, as well as a couple of new clients. Atlanta Dental mentioned our name to a prospective client. They saw our website testimonials, 7 Reasons To Choose Us, USP and About Us page. Now they're a $12K annual recurring revenue client! Boom!
Following the Rapid Implementation Workshop playbook, we're doing drip marketing by e-mail (Robin's Drip Tips) as well as blog posts. As a result, I have several clients I've been messaging. One, in particular, said, "Yes, we're signing up." Well, she has since ghosted me…but the reports show she is STILL OPENING our Drip Tips and blogs. So, we know it's only a matter of time.
Our "Oh What A Relief It Is" Campaign
While we just started sending out the Aspirin campaign in the last couple of weeks, we also did a riff on that campaign. It's our own Alka-Seltzer campaign. We glue a wrapped Alka-Seltzer tablet to the top of the letter with the headline "Does The Thought Of Ransomware Give You Heartburn?"
We've run this campaign at a couple of trade shows. It's received a ton of attention, and prospects remember it.
We are also just getting started on creating our customized Shock-And-Awe box to help close new clients. Those will definitely feature our metal business cards, leatherette koozies and mousepads. In the meantime, we have put our new dental-focused logo on our new Shock-And-Awe folders.
Commit To The Process
The first two times we attempted Robin Robins' program, we did not commit. That's the difference. Commit to the process. Yes, it is a lot of work, but it's well worth it. Any motion is better than no motion. Each little step makes a difference. Even if you take a break, just smack yourself upside the head and get back on it. Don't stop. Don't quit.
One thing that was heavily different this time was the Technology Marketing Toolkit Sherpa. You can't do this program by yourself. We closed our eyes, jumped in and committed to the process.
The world runs on numbers and equations, and our successes and failures are directly related to the variables we put into those equations. I like Marcus Lemonis's success formula of "People, Process, and Product." We had great people, as well as great products and services. But we were lacking a superior PROCESS. Thanks to Robin, we have that nailed today. Since working with Technology Marketing Toolkit this third time, we have added $10,700 in MRR and $27,700 in project revenue! That's a 25% increase in MRR for us!
Additional Resources: Sign up for our Marketing Strategy Brief for more MSP marketing tips by clicking here.