Growing up in a small Russian town called Bataysk, I was a quiet and introverted kid after my father was killed in a car accident. During a school trip to the library at the age of 12, I saw my first personal computer – a magical device that would change my life forever.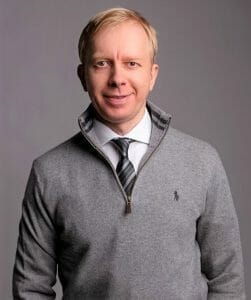 Seeing my passion firsthand, my mom saved half her salary for SIX MONTHS to buy me my first computer. Back then, computers in Russia were very expensive. Unfortunately, after only two weeks, I BROKE that computer. So, I had to learn to fix it myself. That was the start of me becoming a computer guru. I quickly became obsessed with computers and saw them as a way to provide for my family. As a teenager, I even opened up a gaming café, complete with computers I built from scratch.
My gaming café was so successful, the Russian mafia actually showed up with BASEBALL BATS and demanded money. When we refused, the mafia SMASHED a monitor and threatened to break all my monitors the next time I refused to pay! I took the hint and soon moved to find freedom in North America, with only $500 to my name.
How My Girlfriend's ULTIMATUM Transformed My MSP From A Hobby To A Multimillion-Dollar Business!
Named after the capital of Canada (Ottawa), I founded CAPITALTEK in 2008. For years, I ran it like it was a hobby. No marketing, no sizable growth and certainly never reinvesting money back into my business. Then I met a girl.
After we'd dated for a while, this incredible woman gave me the ultimate ultimatum: "Sergey, we're not getting married until you can match the money I've saved." Well, love will make you do crazy things…even work harder on your business than ever before!
My Path To Consistent MRR Growth
One of my first intentional steps was to join TMT. When I first started working Robin's program, she taught me that what is measured can be improved exponentially. So, I made myself a goal to consistently bring in an additional $2K in MRR every year. Simply increasing your MRR goal by $2K every year makes a huge impact on growth!
Next, I joined Robin in Franklin, Tennessee, for her Rapid Implementation Workshop and then went through TMT's 12-week program. I learned so much and now have so many creative ways to overcome many obstacles and struggles. I recently joined Producers Club, which is a great opportunity going forward.
Once I achieved a growth of $4K in MRR, I increased it to $6K in MRR. Today, my new goal is to increase my MRR to $8K per month this year. That's exponential growth!
Substituting Tylenol For The Aspirin Campaign But Still Providing A Healthy $1,376 In MRR
My "secret" to success and my personal mantra is "Consistency and Simplicity." Therefore, I knew with every marketing campaign, I would be extremely consistent and make it as simple as possible. So, I knew the Aspirin campaign would be perfect for CAPITALTEK. We started by sending 50 letters every Friday to construction companies. On Tuesdays, we would call each business to book a discovery call. After 10 weeks, we targeted professional services companies with 50 more letters. I learned from Robin that each business needs to receive at least two letters each year.
We have slightly modified her Aspirin campaign in two ways. First, we affix Tylenol to the top of the letter because aspirin isn't available in Canada. Plus, the Tylenol red matches our logo colors. Second, we use the prospect's first name throughout the letter so we are addressing them personally. It must work because we have sat six first-time appointments and landed one new client worth $1,376 in MRR!
Adding 7 New Clients And $7,175 In MRR With Our Reward-Based Referral Program
All of us love referrals because they cost nothing, are easy to close and often become our most loyal clients. But they're few and far between. Until now. With our "always-on" Referral Program, we give a FREE iPad to anyone who refers a business to us with five or more computers.
Our holiday cards for 2022 also included our Referral Program (Members See Marketing Examples) in a creative way, and we sent these to 294 people, including all our clients, leads and vendors. In addition, we sent out a referral letter (Marketing Example) to our customer base. This Referral Program has generated 11 first-time appointments and brought in seven new clients worth $7,175 in MRR! 
TMT Members: To access all the campaign examples mentioned by this month's Marketing Genius Of The Month, click here or go to the Dashboard under the Marketing Strategy Brief resource and access them there.
A Little Card That Made A BIG Impact On Our Referrals
We also created a "Get Out Of Computer Trouble" card (Members See Marketing Examples) for prospective clients, which is similar to the Monopoly "Get Out Of Jail" card. These fun and well-designed cards on thick paper stock offer two hours of free IT support. By giving these away to our loyal clients, we doubled down on our Referral Program. Because our clients can earn a free iPad and their referrals can earn two free hours of computer help valued at $300, it's a WIN-WIN!  
Our #1 Lead Magnet, Client-Attracting And Revenue-Generating Marketing Initiative
Through Robin Robins' 30-day marketing fundamentals, we have completed our website and SEO makeover. I find it amazing because it's all automated and integrates into our CRM appointment system. In just a couple of months, this marketing initiative has helped us generate 15 first-time appointments and close FOUR new clients for $8,914 in new MRR!
Unexpected And Extraordinary, Our Shock-And-Awe Presentations Helped Bring 4 New Clients Onboard
While our new "Robinized" website and SEO played a role in adding new clients and new MRR, it was our Shock-And-Awe presentations that officially sealed the deals. First, we hired a graphic designer to add our superhero branding all over our stunning Shock-And-Awe box. Inside, we include our testimonial booklet, our newsletter, a free report, our guarantee, my own book How To Destroy Your Business In One Click, a mug, a superhero T-shirt and more. I feel like a celebrity because our prospective clients rave about our boxes! In the few cases when we cannot send the physical box, we e-mail an equally impressive Online Shock-And-Awe presentation.
Canadian Tip: We love Robin's "Client Bill of Rights." However, in Canada we call it the "Charter of Rights and Freedoms." Therefore, I used the same document but renamed the title: "CAPITALTEK's Charter of Rights and Freedoms." Canadian clients LOVE it!
Our Color-Coded Testimonial Book Greased The Path To More Signed Deals
When you're fortunate to have SEVENTY-NINE 5-star Google reviews, you want to put those reviews in front of prospective clients. Therefore, we created a thick and impressive testimonial book featuring our best reviews and testimonials.
To make our testimonial book really stand out as a deal-closing tool, our graphic designer separated each unique target market by its own color. Like a catalog, our Nonprofit testimonials have a different color than our Financial testimonials, Medical testimonials, as well as Legal, Services and Automotive.
Remaining Top Of Mind With Our Uniquely Designed Printed Newsletters
We just wrapped up our 24th issue – two full years – of our printed monthly newsletter called CAPITALTEK Technology Insider. Like clockwork, it gets mailed to our clients and prospective leads on the first of every month.
In a stroke of genius, my graphic designer formatted our newsletter to look like an old-fashioned newspaper. Big, easy-to-read headlines. Lots of powerful images. The paper even FEELS like a newspaper! It's 12 pages long, and we include unique sections, such as our Referral Program announcement, Inspirational Quote, Tech Notes, Staff Highlight, Cybersecurity Villain of the Month and even puzzles. We remain the ONLY Ottawa MSP delivering monthly printed newsletters!
From One-Man Band To 15 Employees! Here's My Secret…
I knew that in order to grow…in order to increase my revenue to meet my girlfriend's expectations…I needed help. I needed to surround myself with talented, educated and very loyal people. I found one resource that meets all these expectations – in the Philippines.
I hired my first personal assistant remotely from the Philippines. Today, I have 15 total employees from the Philippines, including marketers, designers, writers and admin, and my first hire manages ALL of them. Besides the affordability, there are three main reasons why I PREFER to hire from the Philippines:
#1 – Their English is surprisingly good.
#2 – They work in American time zones.
#3 – As a culture, they are very loyal to their employers.
Here's The Real Question: Did I Pass My Girlfriend's Ultimatum?
It wasn't long ago that I struggled to make $300K in revenue. Then, when my girlfriend gave me that ultimatum and I started tracking my growth, I was at $720K in revenue and $58K in MRR. Just a year later, I'm at $1.8M and $127K in MRR! It's not a miracle. It's just about being consistent and implementing simple and effective marketing.
I came here with nothing. I escaped the Russian mafia, who were determined to destroy my business. I had to wash dishes and scrub floors to make ends meet. Yet, because I changed my mindset, I am now living my best life. More than the money or success, it's a FEELING. I feel like the master of my own future! Now I think marketing is like magic.
And as for my girlfriend…YES, we are getting married this year!
TMT Member: To access all the campaign examples mentioned by this month's Marketing Genius Of The Month, click here or go to the Dashboard under the Marketing Strategy Brief resource and access them there.
If you're not a member and want hundreds or growth systems for your MSP and want to see how to get started, click here and you'll get the 4 marketing oil wells an MSP needs to get 1 to 2 new high-profit clients each month.