Early Lessons In Self-Sufficiency
When I was only three years old, my father passed away. It was just my mother and me for all of my childhood. To this day, my mom has been my hero and continues to be the strongest person I know. She taught me how important it is to work hard and leave everything in God's hands. And boy, did she work hard! From restaurants to warehouses to factories, she has always worked demanding jobs for little pay.
Starting at the age of 13, I always had two part-time jobs and would give my mother my paychecks to help with the bills. And knowing that she was barely making enough to support her family, I took out a student loan to put myself through college. In 2004, I opened Mazteck. Pretty quickly, I was able to save enough to help my mother with her bills and even purchase an investment property for her.
Trying My Hand At Advertising And Almost Getting Sued
In July of 2010, I met the most amazing person, named Nancy. When I'm passionate about something, I don't waste any time. I took Nancy out on our first date on a Monday and PROPOSED to her that Thursday! We got married and have two incredible kids.
Business at Mazteck was good, not great. But along the way, I became CONTENT with being a one-man shop that was 99% break-fix work and had very little monthly recurring revenue. I simply made a job for myself but not yet a business. In an effort to break out of my contentment and grow my business, I gave advertising a shot. I purchased a list of attorneys and created 300 postcards that offered a $100 coupon. One lawyer expressed interest, but when I told him the limitations of the coupon, he threatened to SUE me! I quickly decided lawyers were not my ideal target market, and I continued being content in my J.O.B.
How A Dollar Bill Changed My Life
Imagine my surprise when I opened the mail one day to see a crisp dollar bill. I laughed and immediately put it in my wallet. I started reading to see who and why someone would send me a buck and thought, "What a scam! Why would someone advertise to ONLY IT companies?" Then I went online and quickly realized that Robin Robins is a superstar who knew all these famous people. After watching her videos, I knew her proven marketing strategies could help me. But I needed a sign before committing. To help me think, I decided to order lunch from my favorite Chinese restaurant and got this fortune:
That was the sign I needed! I e-mailed my fortune to Robin, and she immediately responded, "Hahaha! See that…the universe is telling you something." Then I called Technology Marketing Toolkit back and signed up for the Rapid Implementation Workshop. No more being content with being a one-man shop. No more being content with simply creating a job for myself. No more being content with 99% break-fix clients.
"Robin, Should I Hire A Salesperson Or Tech?"
"Neither."
I arrived in Nashville excited to meet Robin and her team. After the two-day workshop, I went up to Robin and asked her a question I had been dying to ask: "I'm a one-man shop. What should I do first: hire a salesperson or hire a tech?" She replied, "Neither." For a second, I was confused. Then she told me, "Your first hire should be an administrative assistant. Have him or her do your mailers, answer your phone, clean your lists, etc." I felt like Robin's word was gold so I went home and started looking for an office for my new admin. Today, she is helping me out tremendously!
I Have Done More For My Company In 90 Days Than I Have In The Last 15 Years!
In these last 90 days following Robin's Rapid Implementation Workshop, my eyes have really been opened. I have completely transformed my company. Among my accomplishments, I have…
Increased my monthly recurring revenue from about $2K per month to $30,000 per month!
Transformed my business from break-fix to managed services
Moved from my home office to a REAL office – yes, now I'm a true business owner!
Hired a new administrative assistant and technician
Started answering my phones LIVE every time
Raised my hourly rate for the first time in 15 years!
Started doing quarterly business reviews for the first time
Partnered with Datto for a superior backup system
Partnered with Audit for IT and RapidFire Tools for better client proposals
Partnered with ID Agent to offer dark web scans
Ran multiple e-mail campaigns and direct mail campaigns
Completed EVERYTHING on my 90-Day Checklist!
Winning Advice From This Rapid Implementation Workshop Winner
First Piece Of Advice: Never Be Content.
I hate to say it, but I was very content with where my business was before I started working with Robin. But once you start talking to other MSPs and see what they are achieving, you kind of kick yourself for settling. To this day, I'm disgusted with myself that I was so content for so long. Today, I'm anything but content. I'm no longer working IN my business but ON my business! 
Second Piece Of Advice: "Don't Step Over Dollars To Pick Up Pennies."
Of all the valuable advice I heard from Robin, I keep playing one saying over and over in my head: "Don't step over dollars to pick up pennies." For me, it means you have to first provide your existing customers better service and offer them more solutions before targeting prospects.
Your existing customers TRUST you.
They see you as an IT expert, and they are counting on you to suggest products and services they need to help their business run more efficiently and without downtime. Offer everything you can to your existing customer base that they legitimately need. Initially, I didn't have any additional services to offer, so I signed up with Datto to offer a better backup solution. Today, not only do I have more to sell, it's great practice for learning how to sell new prospects.
Third Piece Of Advice: Nothing Beats Predictable Monthly Income.
Before discovering Technology Marketing Toolkit, the vast majority of my revenue came from unpredictable break-fix sales. While I was able to pay my mortgage, my car payment and take care of my family, I always had that fear of "What if?" What if the sales aren't there next month? What if this summer is as slow as last summer? What if I have to dip into our retirement savings?
After Boot Camp and the 90 days following Robin's workshop, I was able to quickly grow my monthly recurring revenue to about $20,000 a month. Today, it's closer to $30,000 a month! That was my aha moment. Now that I am 80% managed services and have consistent revenue coming in each and every month, the fears, worries and "what ifs" are gone! Plus, now I'm able to afford hiring an administrative assistant and tech so I can focus my time on sales and marketing.
Fourth Piece Of Advice: The Customer Isn't Always Right.
For years, I would simply put up with demanding and difficult customers. That's the problem with break-fix clients. They control your time. The y contact you when all hell breaks loose.
After reading The Pumpkin Plan by Mike Michalowicz, I realized that in order to GROW and have a more profitable pumpkin patch, you must cut away smaller and less desirable pumpkins. I had one customer for years that was big size-wise, but paid the least. They were very demanding, downright rude and expected me to always drop everything for them. Because they would not accept my managed services plan, they became the FIRST customer I ever fired. Good riddance!
Marketing Campaigns And Strategies That Increased My Monthly Recurring Revenue By $28,000!
"Bad News, Good News" Letter Brought Us LOTS Of Good News
For 15 years, I never increased my rates. Not once! I feared my clients leaving me if I increased my prices. So, I reluctantly sent out Robin's "Bad News, Good News" letter to all my break-fix clients. What a surprise! Not one customer complained about my price increase! Even better, a lot of my customers signed on for my managed services plan. Before Robin, 99% of my clients were break-fix. Today, about 80% have converted to managed services, and those who remain break-fix are paying my higher hourly rate. Of the 59 clients who received this letter, I sat 36 appointments and closed 53%!
Converting Larger Clients With Quarterly Business Reviews
I combined the "Bad News, Good News" Letter with Robin's e-mail request for quarterly business reviews, and IT WORKS! I started with our bigger clients and worked our way down to the smaller ones. During these QBRs, we offered our clients a better service with quality solutions, such as RapidFire Tools and ID Agent. As a result, I added $18,875 in new monthly recurring revenue and $46,275 in new project revenue!
Another QBR Opportunity That Closed 76%!
To our clients who had outdated technologies, we sent the Windows 7 and Server 2008 EOL campaign. In the past, I had never had QBRs with ANY of my clients. But this campaign gave us another opportunity to sit with them, explain why they need our services and why they should convert to managed services. We sat 21 appointments and closed 76% of them!
Painless Profits From The Aspirin Campaign
From Hoovers, we purchased a list of 385 accountants and financial services firms in New Jersey with 10 to 50 employees for our Aspirin campaign. After scrubbing the list, we had 280 quality contacts. Because it was tax season, we realized that no accountants were considering switching IT services providers at that time. So, we shifted our focus to the financial advisors and will wait on the accountants. To date, of the 111 letters we sent, we sat for three appointments and closed two of them for $2,435 in MRR and $2,250 in net new revenue.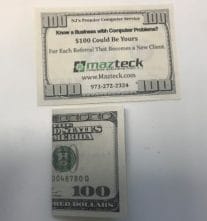 Our Creative Referral Campaign Brought In $26,690 In New Projects!
Would this referral card that looks like a folded hundred-dollar bill get your attention? When we handed out these referral cards to our clients, they were disappointed they weren't real. Our answer: it CAN be real! That's because we offer one month for free to our managed services clients and two hours of free support to our break-fix clients.
In the two months we've distributed the referral cards, we've received six referrals and closed four of them, including one referral that brought in $26,690 in new projects!
Goodbye, Contentment. Today I'm A REAL Business Owner!
When I look back on my life and career, I realize I am blessed. I would not have been able to accomplish any of the things I've done without the help of God, my mother, my wife and now Robin Robins and her team. Since signing on with Technology Marketing Toolkit, I have learned how to become a true business owner.
I now realize that being content is similar to having a mental illness like depression. And the best cure is support, just like the support of Robin's team and my Accountability Group. In the last few months, I am waking up at 4:00 a.m., eager to get to work and start my day. Now I realize I was lucky my business survived for 15 years, but I'm honestly still in the start-up phase. I look forward to learning and growing from everyone that's a part of this community.